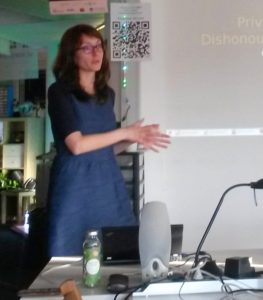 BEE SECURE recently interviewed Rosi, asking about her transition from Privacy Salon attendee to speaker. The interview is also available in French and German.
Digital Privacy Salon – Interview with a visitor/guest speaker
In the framework of International Women's Day, the Digital Privacy Salon explored privacy issues in relation to women – but with information and tips that apply to everyone.
From making a smart dating profile to private browsing, one of the guest speakers, Kasia, shared practical tips for staying safe online from the Violet Blue Book "the smart girl's guide to privacy" and from her own life experience.
The second guest speaker, Rosi, gave an update on recent developments in the world of surveillance and how one could maintain privacy and security despite the dishonourable behaviours that she had found.
It was the first keynote that Rosi gave at a Privacy Salon. She has been a regular visitor of the Privacy Salon, hence she was really excited to share her experiences for the first time on the "stage" of the Level 2 Hackerspace in Bonnevoie.
BEE SECURE had the opportunity to interview her on her experiences regarding the Privacy Salon and how these attendances have changed her perspective on data and privacy protection.
Could you please tell us how and why you ended up at your first Privacy Salon?
The first time I attended the Privacy salon was in July 2015. I saw the invite on the Luxembourg meetup page, and thought it could be interesting, as ever since I watched "Minority report", I have been aware what having too much data about me could do. The workshop offered to show practical tools and help us secure our data, so it sounded like a perfect fit to expand my knowledge.
At first, it seemed a bit scary to go, because I did not know what I could expect and did not know anybody there as I came alone. However, it was summer, it was on Saturday and there was free pizza, so I could not lose anything by going. I took my laptop and headed to Level2. At the end I stayed after the privacy salon, hung out with the people there and even watched a movie, since it was also the bimonthly movie night at Level2.
How would you describe the Privacy Salon to a person that has never participated?
It is a very practical workshop/meeting where in a safe space you can learn different tips and tricks on how to protect your data and have an honest conversation, which is not driven by some commercial agenda.
Can you describe your most positive / influencing experience at a Privacy Salon?
Would be difficult to name only one, as the Privacy salon gave me many useful tools, but I would say the urge to search and expand my understanding on data privacy and security, as well as that feeling protective about your data is not a bad thing, as there are other people like you out there.
Would you say that your perspective on data and privacy protection has changed since first visiting a Privacy Salon? How?
Yes, I learned about more channels, from which my data could be taken and used without my knowledge. It put emphasis on sayings such as "if a service is free, you are the product", which I did not reflect that much before. Thus, following these workshops I am much more aware of the data I give and I can make a conscious choice to use a certain service or not. For instance, I would not like to have a smartwatch or other health tracking devices, because I am not sure how much this data is protected, and how it could be used by future employers, insurance companies or advertisers.
Privacy Salon meetings aim to share practical tools with people to protect their data from "intrusive surveillance". Which are your top three tools and / or advises that you'd like to share with us?
The privacy salon website https://www.privacysalon.lu/: I always use this website as a reference every time I get on a new laptop with internet (either mine of my friends) and want to install adblocker and other useful plugins they are not aware of. It is a starting pack for an unsuspecting internet user .

Twitter: I got registered after my first privacy salon, as I was told this is the best way to keep up with the data privacy news and other tech news. With some fine-tuning of your twitter algorithm and the right people to follow you can indeed get a lot of interesting data related news and discussions, which is difficult to achieve with any other social media. Twitter is the one social media I do not consider as waste of time, as it teaches me stuff and exposes me to interesting content.

Podcasts: As in my daily life/work I am mostly surrounded by people who are not concerned much about sharing their data, it was difficult at first for me to get further in these topics and grow my vocabulary and understanding. Podcasts on data privacy and cyber issues are a great way to listen to such conversations and get exposed to them. My favourites are Defensive security (http://defensivesecurity.org/), Note to self (https://www.wnycstudios.org/shows/notetoself/) and WIRED Security spoken edition (https://poddtoppen.se/podcast/1211754233/wired-security-spoken-edition).
If you already are or if you have become interested in visiting a Privacy Salon, check out the BEE SECURE agenda for the upcoming dates. The Digital Privacy Salon is free, intended for everyone, no prior technical expertise is assumed. For more information on the initiative, visit http://www.privacysalon.lu